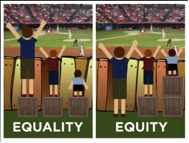 Adequate education funding is only one piece of the puzzle when it comes to promoting quality schools that meet the needs of all Nevada children. Public school children – especially low-income, high needs, academically at-risk, special education and English language learner students – must be provided with an equitable opportunity to learn. ENN's Equity Now Initiative seeks to:
Ensure every student, regardless of their zip code, has a quality teacher in their classroom
Ensure students in all districts, whether urban or rural, have the same learning opportunities and attend safe schools.
Decrease the achievement gap between majority and minority students, ELL and non-ELL, special education.
Ensure every student and parent regardless of their cultural background, is fully engaged by their school community
The Equity Now Initiative addresses these areas of concern in a variety of ways, including through parent and community education, impact on the legislative and regulatory process, and advocacy at the school district level for appropriate policies and practices.